The Faunal Interest Group
The group has convened by-weekly (Fridays from 1:30 pm to 3:30 pm in the Archaeology Centre boardroom AP140 at 19 Ursula Franklin Street) since September 2007. The group discusses new and old issues of zoo archaeological method and theory. For more information, please contact Genevieve Dewar genevieve.dewar@utoronto.ca.
March Events
The Archaeological Institute of America (AIA) presents: "FemiNetworkX: Mapping Female Maritime Mobility Patterns," by Prof. Lana Randolf (Bishop's University). Tuesday, March 28, 2023, from 6-8pm at the Antropology Building (19 Russell Street, St. George Campus) room AP130. Wine reception to follow (AP140). While scholarship on ancient seafaring and maritime networks has grown substantally since the new millennium, the role of women in the creation and maintenance of these networks remains underexplored. Women were important contributors to the domestic economy and key agents of religion, nested within overlapping and multiscalar Mediterranean-wide networks. They were also, as commodities themselves, part and parcel of forced migration through armed conflict and – willingly or not – marriage and motherhood. In this paper, Prof. Randolf examines the agency of women as drivers of mobility networks between ancient Miletus and the Milesian islands (Leros, Patmos, Lepsia) in the southeast Aegean. To do so, Prof. Randolph draws upon feminist geography, mobility and migration theory, and Indigenous gynocentric methodologies, and integrate them with traditional approaches to maritime navigation, such as GIS and network theory. Although temples, altars, and sanctuaries to female deities situated on conspicuous promontories and coastlines within the maritime landscape have traditionally been viewed as functions of the male sphere, Prof. Randolph contends that there is a second, double-reading: the preponderance of female, foreign and domestic maritime deities suggests that they are also reflective of the condition of mobile women and their liminal moment of transition on the sea.
March Events
Macs Proseminar Series: Title TBD, by Prof. Nicholas Blackwell (Indiana University Bloomington). Thursday, March 30, 2023, from 4-6pm, at the Lillian Massey Building (LI, 125 Queen's Park, St. George campus), room 205.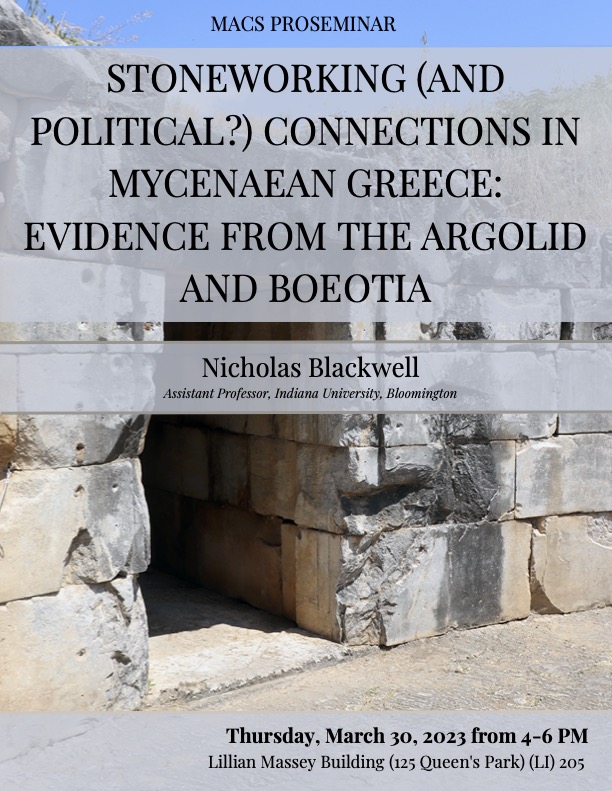 April Events
The Archaeological Institute of America (AIA) presents: "The Archaeology of Textiles: Did Ancient Chinese silk weaving technology reach the eastern Mediterranean coast?," by Prof. Angela Sheng (McMaster University). Tuesday, April 25, 2023, from 6-8pm at the Anthropology Building (19 Russell Street, St. George Campus) room AP130. Wine reception to follow (AP140). Chinese silks were coveted by not only the imperial elite in ancient China but also, apparently, those in ancient Rome. Silks were woven with repeated patterns in the warp as early as 500 BCE; their technology remained a great secret in China for many centuries. Yet, in 1933, a patterned silk fragment was discovered in Dura-Europos near Palmyra (today's Tadmur in Syria). It was dated to 256 when the Roman city fell to the Sasanians. Some textile historians have long argued that the weft-faced patterning technology of this discovery derived from Chinese examples that had reached the eastern Mediterranean coast some time earlier. If so, how? If not, why not? To answer these questions, this talk will explore what we can learn about early weavers and their embodied knowledge by reviewing some significant finds from China and the eastern Mediterranean coast.
Debates in Archaeology 2023
"The Archaeology of Alternate Urbanisms in the Tropical World in the Context of New Technologies and Methodologies: Lasers, Radar, and AI."
We are delighted to announce the Debates in Archaeology 2023 symposium, organized by Dr. Sarah Klassen (UofT postdoctoral fellow), that will take place over two days on April 21 & 22. We are planning to carry out the symposium in a hybrid format (for online registration, please click here). Archaeologists have long doubted that tropical environments could sustain large-scale urban complexes or extended, intensive agricultural systems in pre-modern times. However, compelling evidence is emerging that complex social formations flourished in densely vegetated or re-engineered tropical ecosystems. Across the globe in tropical forest environments, archaeologists have identified the material correlates for early urbanism, domestication, intensive and extensive agriculture, and infrastructural development on a scale that rivals the urban landscapes of non-tropical regions. In recent years, remote-sensing techniques, including lidar and ground penetrating radar, have revolutionized our understanding of preindustrial urbanization and imperial expansion in tropical and non-tropical environments. New developments in artificial intelligence and novel approaches such as settlement scaling have also significantly advanced our analysis of these processes. The invited speakers will assess the contributions and limitations of new technologies in the study of tropical urbanism, including lidar and AI.  In the end, the talks will present a variety of case studies of alternate urban political orders from tropical climates across the world.