Institute for Field Research – Hacımusalar Mound Summer Field School
The Institute for Field Research now has a field school for summer 2023 at  Hacımusalar Mound on the Elmalı Plain in Turkey. Courses will cover paleoenvironmental studies, archaeometry, geoanthropology, and archaeology. The course instructor will be Dr. Bülent Arıkan (Associate Professor, Eurasia Institute of Earth Sciences, Istanbul Technical University). Hacımusalar is a multi-period archaeological settlement in the Elmalı Plain of SW Turkey. The region still follows traditional agro-pastoral lifeway yet experiencing all the problems related to rapid climate change and anthropogenic degradation of its environment. Previous excavations at the Mound revealed major architectural remains such as fortification walls, houses and churches. The new phase of field work focuses on the long-term evolution of socio-ecological dynamics on the Plain. Using the long and complex archaeological record obtained from the Mound, researchers will dedicate the next decade to understand the time-transgressive patterns in human-environment interactions. Field methods (geophysics, geology, paleobotany, remote sensing, etc.) that complement archaeological research make EFSG a unique setting to learn about the past human-environment interactions through active participation while learning about the current climate crisis and how it impacts communities with traditional lifeways.
For more information about this opportunity and to apply, please see here.
GRAPE Summer Field School – Republic of Georgia
Application Deadline: February 10, 2023
The Gadachrili Gora Regional Archaeological Project Expedition (GRAPE) Field School is now accepting students for the 2023 season. The field school will run for 6 weeks between May 1-June 11, in conjunction with the Georgian National Museum. GRAPE's excavation investigates the development of Neolithic and Chalcolithic village life in the south Caucasus with the excavations of the sites of Gadachrili and small soundings at a number of additional sites in the Kvemo Kartli region of the Republic of Georgia.
The GRAPE field school will include students of all ages and nationalities working and living in a community context, where students are actively exposed to an interdisciplinary archaeological project. The program will instruct students how to conduct an archaeological investigation, including:
• Excavation methods and techniques, and recording practices
• Processing and analyzing recovered artifactual remains. This includes ceramics, lithics, and faunal and botanical remains
• Experimental archaeology: How to recreate ancient stone and bone tools, and ceramic artefacts
• Landscape and survey archaeology, where students will learn how to map archaeological sites and process spatial data using GIS.
• Using the project's state-of-the-art relational database.
•             Various photographic techniques, including drone photography and mapping and photogrammetry.
Field trips to archaeological and historical sites and social events will also introduce students to the history and culture of the Republic of Georgia. Students with no previous archaeological training are welcome and will receive a full course credit under NMC 261Y. Non-credit volunteers are also welcome for the full 6 weeks of shorter periods. Applications are now open through the GRAPE website with a deadline of February 10, 2023. More information about program costs and funding opportunities are also available on the website.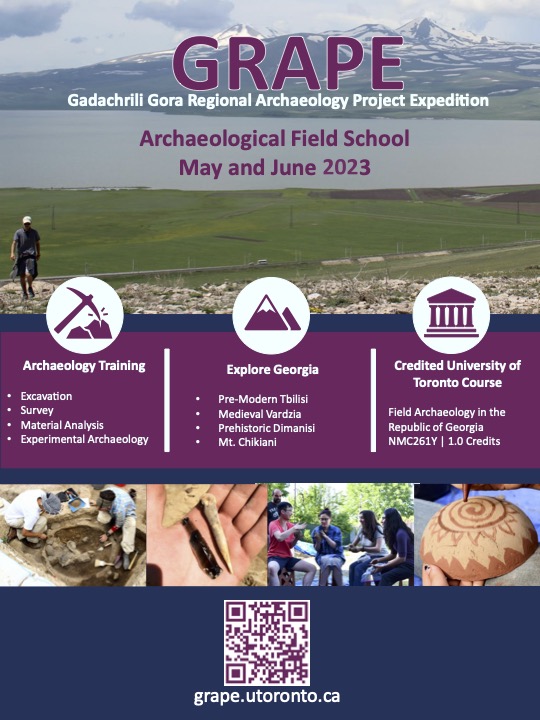 Archaeological Soil and Sediment Micromorphology Course – American School of Classical Studies at Athens, Greece, May 22-26, 2023
Application Deadline: February 10, 2023
The Malcom H. Wiener Laboratory for Archaeological Science is hosting an "Archaeological Soil and Sediment Micromorphology" course from May 22-26 in 2023. The course is an intensive week-long course in Archaeological Micromorphology taught by Dr. Panagiotis (Takis) Karkanas (Director of the Wiener Laboratory) and Dr. Paul Goldberg (Senior Visiting Professor, Institut für Naturwissenschaftliche Archäologie (INA), University of Tübingen). A maximum of 8 students will be accepted for the course. Preference is given to advanced students with a background in geoarchaeology, and preferably some exposure to optical mineralogy as well. For more details about the program, please see the attached flyer and go to this link.