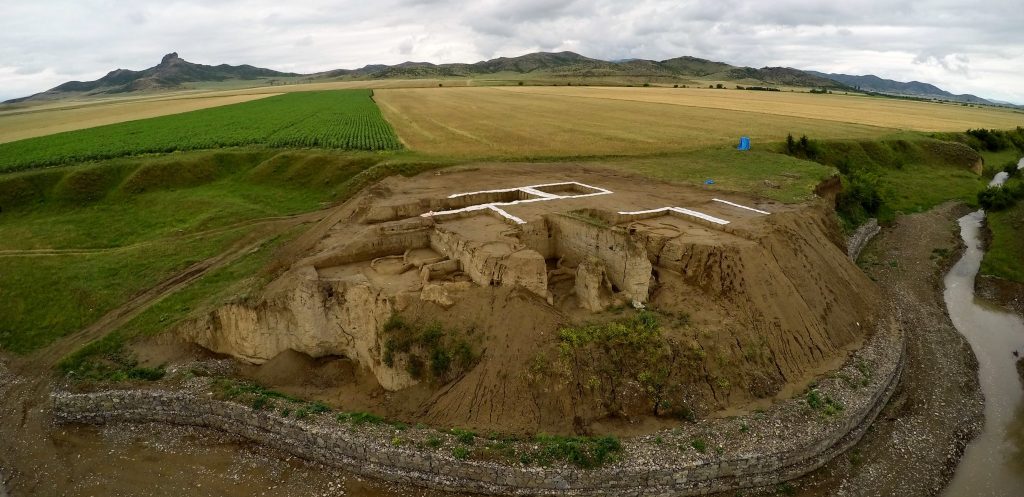 Excavations
The Gadachrili Gora Regional Archaeology Project Expedition (GRAPE) is an international Georgian-Canadian led investigation into the prehistory of the Caucasus Region, in the Republic of Georgia. In 2016 GRAPE renewed excavations at two Neolithic sites, as part of the larger: "Research and Popularization of Georgian Grape and Wine Culture" project. GRAPE has since recovered evidence for the earliest known wine, dating to 6,000 – 5800 BCE. The evidence for wine was found in residues on Shulaveris Shomu type pottery recovered from Shulaveris Gora.
GRAPE has excavated three Neolithic Shulaveris Shomu sites: Shulaveris Gora, Gadachrili Gora and Imiris Gora. These three sites are located within a few kilometers of each other. Together they shed light on early agriculture, animal husbandry, and land management practices. Forthcoming excavations will be centered at Gadachrili Gora, a site with centuries of occupation (5,800 – 5,300 BCE).
Survey
Our survey efforts concentrate on the Kvermo Kartli Region, surrounding Gadachrili Gora. The Gadachrili Gora Regional Archaeology Survey (GRAS) focuses on investigating and mapping surface evidence for prehistoric activity in the area. Beyond GRAS our survey team has engaged in preliminary research in surrounding regions with the Gardabani Archaeological Survey (GAS). Collectively, these efforts shed light on the dynamic relationship between peoples and the land in prehistoric Georgia.
Test pitting at prospective GRAS sites is underway. This includes the investigation of potential Paleolithic, Neolithic, and Chalcolithic sites. Upcoming field research will continue the systematic test-pitting of potential sites.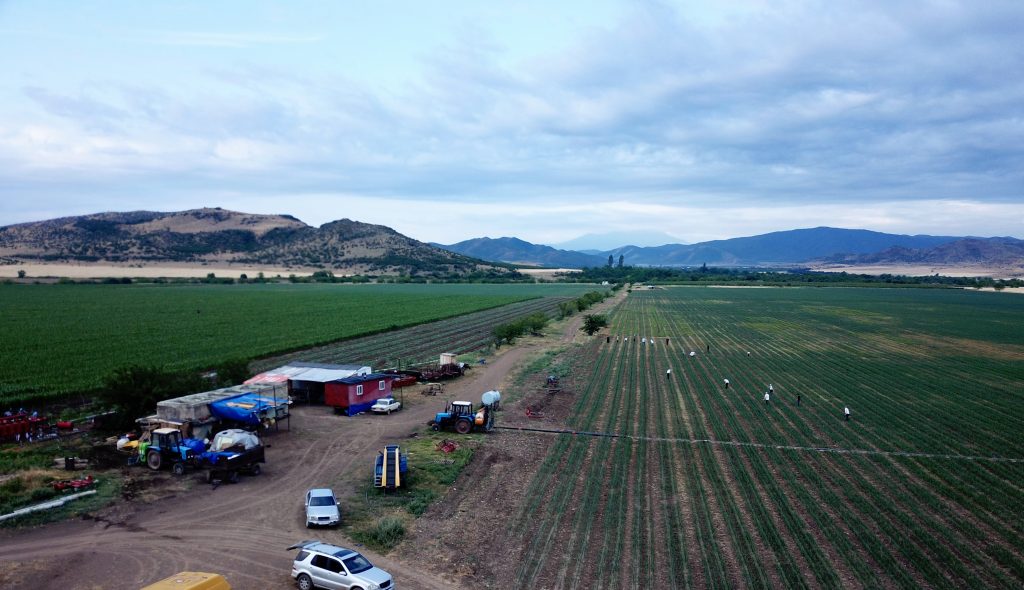 Analysis and Experiments
As part of our fieldwork we conduct ongoing experimental archaeology. We engage in activities such as: pottery making, kiln building, obsidian and clay sourcing, knapping, butchery, and awl-fashioning. Check out The Naked Scientists' podcast: Meet the Neolithic featuring GRAPE team members discussing experimental archaeology, field work and the Neolithic.
Opportunities
GRAPE partners with the Woodsworth College Summer Abroad Program, to provide a credited field school (NMC261Y). This allows for students to join our excavations and surveys. No previous experience is required!
Excavation Directors
Stephen Batiuk
Stephen.batiuk@mail.utoronto.ca
https://utoronto.academia.edu/StephenBatiuk
Mindia Jalabadze
https://www.researchgate.net/profile/Mindia_Jalabadze
Survey Director
Khaled Abu Jayyab
Khaled.abujayyab@utoronto.ca
https://utoronto.academia.edu/KhaledJayyab
Select Publications and Presentations
McGovern P. et al (2017). Early Neolithic wine of Georgia in the South Caucasus. PNAS 114(48). https://doi.org/10.1073/pnas.1714728114
Batiuk S. et al (2019). The 2017-2018 Gadachrili Gora Regional Archaeological Project (GRAPE): Second Prelim Report. Anatolica 45.
Magradze D. et al (2019). Progress for research of grape and wine culture in Georgia, the South Caucasus. 41st World Congress of Vine and Wine https://doi.org/10.1051/bioconf/20191203003
Abu Jayyab K. and N. Handziuk (2020). Pottery Making as an Experimental Pedagogical Device for Understanding the Chaîne Opératoire: Results from the Gadachrili Gora Regional Archaeological Project Archaeological Review from Cambridge 35(1). Rhodes S. (2019). Bone Tool Histories from Shulaveris and Gadachrili Gora, Georigia, South Caucasus. 13th Meeting of the Worked Bone Research Group (ICAZ), Montreal October 2019.

Follow our Ongoing Research!
https://www.instagram.com/dig_grape/