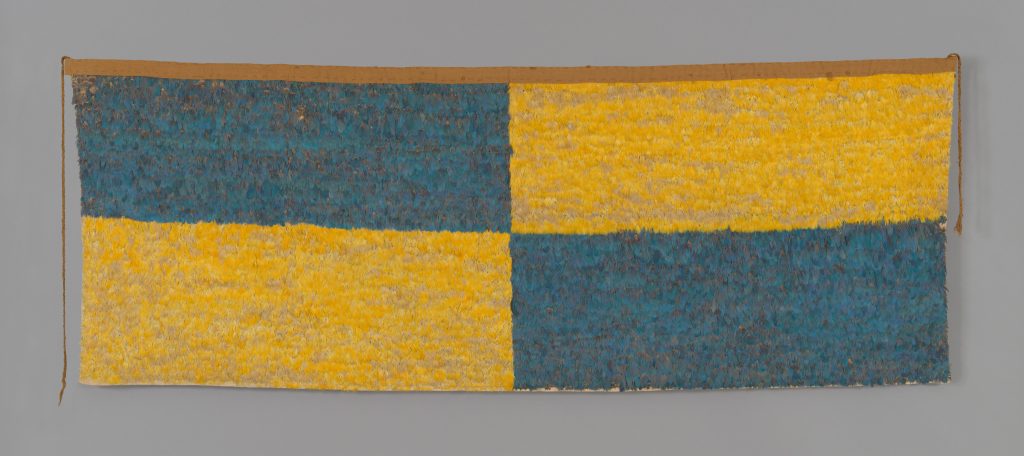 In 1943, local workers uncovered a cache of approximately 96 feathered panels at the site of Corral Redondo in southern Peru. Featuring geometric patterns made by stitching strings of yellow and blue macaw feathers to a cotton backing, the panels had been rolled up inside large face-necked jars associated with the Wari State (600-1000 AD). Many of the panels were sent out of the country soon after their discovery, ending up in museums and private collections around the world. The panels remain the largest cache of Pre-Columbian feathered textiles ever discovered in the Andes and are among the most iconic examples of Wari art.
More than twenty of the panels are currently held by the Metropolitan Museum of Art in New York City. The panels, as a group, can address issues of long-standing interest for those studying Middle Horizon Peru ranging from the degree of interaction between the Pacific Coast and the Amazon to the organization of textile production. In 2018, a research collaboration between Arizona State University, the Metropolitan Museum of Art, the Royal Ontario Museum, the University of Warwick, and the University of California-Merced was launched to study these panels.
Directed by the Royal Ontario Museum's Justin Jennings, the research collaboration's first phase is an isotope and DNA study of a single panel to address such questions as the diet of the parrots used to make the panel and the location where the cotton fibre was produced. This phase should be completed in 2021. A second phase of the project will study the Metropolitan Museum of Art's entire collection of Corral Redondo panels and combine chemical analyses with the technical analysis of each textile's manufacturing.